Thank God I got friend-zoned by my boyfriend.
When I initially spotted Jason at a Hillel event during my freshman year of college, it was love at first sight for me. He was tall, dark, handsome, and JEWISH. What's more, he was incredibly sweet and had a great sense of humor. Five minutes into our conversation we were laughing and talking like we'd known each other for years. The delusional romantic in me was screaming "It's happening, he's the one!" 
Yet every few minutes he would duck away with a faint smile on his face to covertly text someone. He can't possibly have a girlfriend, I thought, a girlfriend would NOT fit into our love story. I soon found out that he did indeed have a girlfriend back home. It hit me that Jason had not been flirting with me as I had thought, but simply making friendly conversation. My disappointment was intense but short-lived.
As soon as I realized that true love was not in our future, I moved right along. I saw a string of other guys, each worse than the next (and none of them Jewish). Meanwhile, Jason and I developed an epic platonic friendship. We became best friends, getting lunch together a few times a week, or enjoying sunny days together outside.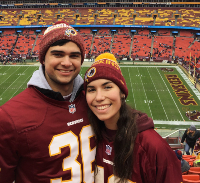 I learned that Jason loved football, put peanut butter on everything, and could easily fall asleep in the middle of a noisy park. I also found out that Jason never made snap judgments, was always on time and would pick you up at the emergency room at 4 in the morning with no questions asked. I also noted with deep respect that Jason's eye never wandered to other girls.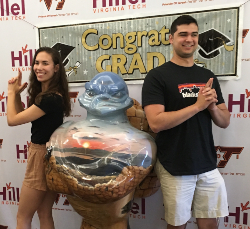 At this point, Jason and I were such close friends that I looked at him more like a brother than anything else. My initial impression of him was now buried so deep that I had almost forgotten about it…almost. And then one day, he informed me that he and his girlfriend had broken up.
I invited him out to parties with me and even tried setting him up with a friend. I had no intention of breaking out of the friend zone with the best friend I had ever made.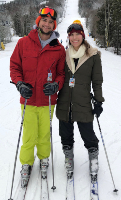 And yet, I could not ignore my belief that I would never meet anyone better. I had the privilege of getting to know Jason without the pressure or dynamics of single life. I had even gotten to observe his chivalrous behavior around other girls while his long-distance girlfriend was nowhere nearby. Six months later, we got together. Three years later and I still think he was worth the wait.
Shoshana Levenson and Jason Blaha are graduates of Virginia Tech, Class of 2019. Shoshana is from Silver Spring, Maryland and Jason is from Yorktown, Virginia, where they're currently making epic pandemic quarantine memories with Jason's family.