Shavuot is known as the holiday where Jews stay up all night studying Torah. Some say we do this to commemorate and honor our exodus from Egypt and receiving the Torah at Mount Sinai, while some have a differing explanation. Regardless of individual beliefs, studying Torah, with the requisite pint of ice cream, until the wee hours of the morning is now the custom.
This year, we thought you might appreciate adding some new sparks to your standard 2 a.m. debate.
In Moment's new book Can Robots Be Jewish? And Other Pressing Questions of Modern Life, Amy E. Schwartz provides delightful commentary, celebrating the rabbinic impulse to question every assumption and highlighting the many and sometimes surprising ways ancient texts can speak to us today.
In this book, rabbis spanning the range of modern Jewish thought, from Humanist and Reform to Orthodox and beyond, consider these difficult and provocative questions and many others:
Can Robots Be Jewish?
Should we edit our children's genes?
Are there things that can't be forgiven?
Are Jews still expecting a messiah?
Is Judaism good for women?
Should Jews strive to be happy?
Do Jews believe in the afterlife?
Click here to 0rder Can Robots Be Jewish? And Other Pressing Questions of Modern Life and bring these and other issues to your Shavuot table this year.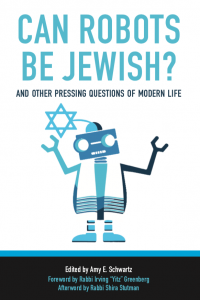 Sometimes they agree—but not often. What do you think?