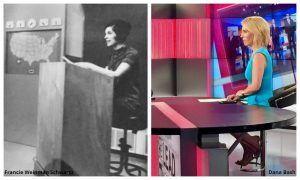 By Pat Lewis
CNN political correspondent Dana Bash was interviewed by her mother, Francie Weinman Schwartz, herself a former journalist and senior editor at Moment, in the last of three special Moment Mother's Day Zoominars.
In the wide-ranging interview, Dana discussed her Judaism, her career – and her admiration for her mother. "I want to give a shout out to my mom," she said. "After my brother and I went to college, she decided to dedicate herself to studying Judaism. She went to Hebrew Union College in a class of rabbinical students and received the first Master's in Judaic Studies." She also announced that Francie was soon going to be awarded an honorary doctorate from HUC for her 25 years of work in the field. "We are all so proud," she said.
Although Dana says she tried to avoid going into journalism, the genes seem to have prevailed. (Her father was a longtime ABC producer whose portfolio included Nightline. He jokes that when she was in high school she didn't even know there were three branches of government and now she covers two of them.) And her religion may have played a role. "Maybe it's in our blood," she said, "We really like to talk about arguments, to argue the arguments."
Dana talked about how fortunate she was to have had mentors like Judy Woodruff and former CNN reporter Candy Crowley, and how she in turn works hard to be a resource for young women entering the field. Today's women journalists have each other's backs, she said, making for a real sisterhood. The advice she has for anyone wanting to get into the field? "Do your homework. Read as much as you can. Do internships if you can. And write, write, write."
She also reflected on how meaningful it was to interview John Lewis on his civil rights pilgrimages on the anniversary of the Selma March. She recalled being with him when he first visited the Lorraine Motel in Memphis, the site of Martin Luther King's assassination. Lewis wasn't with MLK at the time because he was working on Bobby Kennedy's presidential campaign.
"To walk across the [Edmund Pettus] bridge with him 50 years after the march, talking about how the right to vote is everything – and here we are today having the same arguments and debates."
Dana explained how Badass Women of Washington came into being a few years ago; one recent story was about Congresswoman Nikema Williams, who holds the late John Lewis' seat.
She also talked about her family's Holocaust history, how her grandmother learned, shortly after Francie's birth, that her parents and sister had been taken. Dana said she doesn't remember a time when she wasn't aware of the history; asked whether it had any influence on her, she said "How could it now?"
Sign up for Moment's upcoming Zoominars—and watch all our past events—here!