When three Israeli teenagers were kidnapped and murdered by Palestinian terrorists during the summer of 2014, then 16-year-old Adam Gabay, like the rest of the country and most of the Jewish world, knew the details. That summer became about the three boys and the war that ensued between Israel and Gaza, known as Tzuk Eitan ("Operation Protective Edge") or the 2014 Israel–Gaza conflict. But Gabay, a secular Israeli born and raised in Tel Aviv, didn't learn about the kidnapping and murder of Mohammed Abu Khdeir, a 16-year-old Palestinian, until he began his military service in July 2016, where he worked as an Israeli Defense Forces spokesperson while pursuing an acting career. Now known as a plan to avenge the death of the three Israeli boys, Abu Khdeir's murder and the following investigation is the plot of HBO's Our Boys. In the series, Gabay stars as Avishay Elbaz, a troubled Yeshiva student suspected of taking part in Abu Khdeir's murder. 
After studying acting in high school (and learning from his father, Israeli actor Sasson Gabai), Gabay worked on smaller projects before being cast in Our Boys, which received international acclaim. Shortly after filming ended, Gabay moved to the United States to join the traveling cast of the Tony Award-winning musical The Band's Visit as Papi, alongside his father who played the lead role.
After The Band's Visit tour was cut short by the COVID-19 pandemic, Gabay returned to Israel where he is currently working on two upcoming productions. But Gabay hasn't completely let go of his breakout roles in Our Boys and The Band's Visit. Both Avishay and Papi left permanent impressions on Gabay, who says time in the minds of characters can change a person. Editorial fellow Lilly Gelman spoke with Gabay over Zoom about his methods of character development and what he learned from his time on the screen and stage. 
How did you prepare to portray a character with such a different upbringing? I did a lot of research. The production company and I visited synagogues and yeshivas. But I wasn't just imagining what it's like to be a yeshiva boy or a religious guy. I needed to explore what it's like to be a boy who, for his entire life, his family, his society, everybody, navigated him to be one thing, a good yeshiva boy. But because of his emotional, mental issues, he just can't, even though he really wants to. And that was my mission. To portray all of the anxiety and the fear, to feel it and to really understand it.
Was it challenging to play a murderer in Our Boys? I had a lot of time to prepare. Seven audition months and five rehearsal months. I did a lot of reading to understand Avishay's clinical depression and his separation anxiety. I also watched the crime reenactment videos that the police took during the real-life investigation (depicted in episode seven). We really dove into his character. When doing a show like this, you have no choice but to immerse yourself. Our Boys was my life. It wasn't easy at all. 
But I act because I want to be part of stories that should be told, and that people should know about and feel and deal with. So I thought about the piece, and I thought about how important the piece is, and how I could serve it the best way. If that means I need to be 100 percent in this mindset, I will be.
And there's sort of a funny story about that. I was doing my army service while I was filming, and I was randomly selected to have a polygraph test. And they asked me if I ever committed a severe crime. And a week before I did the polygraph test we filmed the kidnapping episode for Our Boys when Avishay and his cousins are choking Mohammed in the car and burning him. And when the test administrator asked that, I imagined myself grabbing Mohammed and choking him. After the test, the guy told me that everything looked fine, except during the question about the severe crime, the machine went a little crazy. And I explained that I had imagined us filming the scene. 
It seems like you absorbed parts of the character while filming. Did any aspects of Avishay's personality stay with you after the show closed? I am a different person after this project, for sure. I had worked with a dialect coach to develop Avishay's stutter because I don't have a stutter. But while we were filming, I would come back from a shoot and start to stutter. My friends were kind of confused and surprised by it.
Every project and experience in life stays with you in some way. I will always have room in my heart for Avishay. Not for him specifically, but for the project. I didn't grow up religiously observant; I was raised more traditionally and now I'm not religious at all. But I found some connection to religion through Avishay.
When you were filming, did you think back to how you felt when the murder happened in 2014? When all of it happened, I was 16, Avishay's age. I remember most of this summer, the three boys being kidnapped. But most of my memories are about Roi, a close family friend of ours who was killed in Tzuk Eitan, the war with Gaza that started after the three boys were killed. But I didn't hear much about Mohammad's story. Even in Tel Aviv, which is a central Israeli city, it wasn't big news, because it didn't look good. When I served as an IDF spokesperson, I learned more about it. But I only learned the full picture when I began working on Our Boys. And now a lot of people in Israel and all over the world know about Muhammad's story through the show. It's unfortunate that many only learned about it four years later. But it's amazing that they know about it now. 
Our Boys highlights the distrust between the Palestinians and the Israeli Police. Do you see similarities between that relationship and the relationship between Black Americans and the police in the United States? It's a really heavy topic. Recently, Iyad Halaq, an autistic Palestinian man, was shot in East Jerusalem because the police mistook his phone for a gun. That happened right after George Floyd was murdered. So I posted an image on Instagram of Iyad and George saying that race-based police brutality has to be stopped. And some of my fans and followers got upset, saying that there is no place to compare the two incidents. 
I think there are both similarities and differences between the cases. And it's a good thing that people, especially white people, are aware and learning. I think a lot of people said "Okay, we have nothing to do in quarantine. We're going to donate, read, protest, post." Because something has to change. And I'm trying to be the ambassador of it here, for my friends and family, in Israel. 
How would you respond to a fan who says that the situations in Israel and the U.S. can't be compared? I made a promise to myself to stop talking about right and wrong. There's no right and there's no wrong. It's just very complicated. I'm very willing to have a conversation about it if you want to sit down and talk nicely and to listen. And of course, I'll listen to them, as well. Because I'm still learning and I want to understand. I can contribute from my knowledge and they can contribute to me from their knowledge. I think we need to have conversations more than anything. That's what this time should be about.
Did you expect the show to be such a hit in the states? No. It's weird. I knew that it was a big deal that it was on HBO. And the creators, Joseph Cedar, Hagai Levi and Tawfik Abu Wael, are impressive. But I and all of the lead cast were so into it that we didn't think about much else. We didn't think if it's going to be a big deal in the States, in Israel, or anywhere. We were just doing it and that was our life. 
What was it like transitioning to a live stage in The Band's Visit so soon after wrapping production of Our Boys? It's like a different profession. The camera catches every blink, every movement. It's so sensitive, but you have the chance to get it perfect. But in theater, it's tricky, because you're performing live in front of a 1,500 to 5,000 person audience, and if something goes wrong, you don't have a second take. You just need to live with it. 
And we did eight shows a week—nearly 300 shows total. When you're doing that many shows, you don't have eight perfect shows a week. You have to accept that each one is different.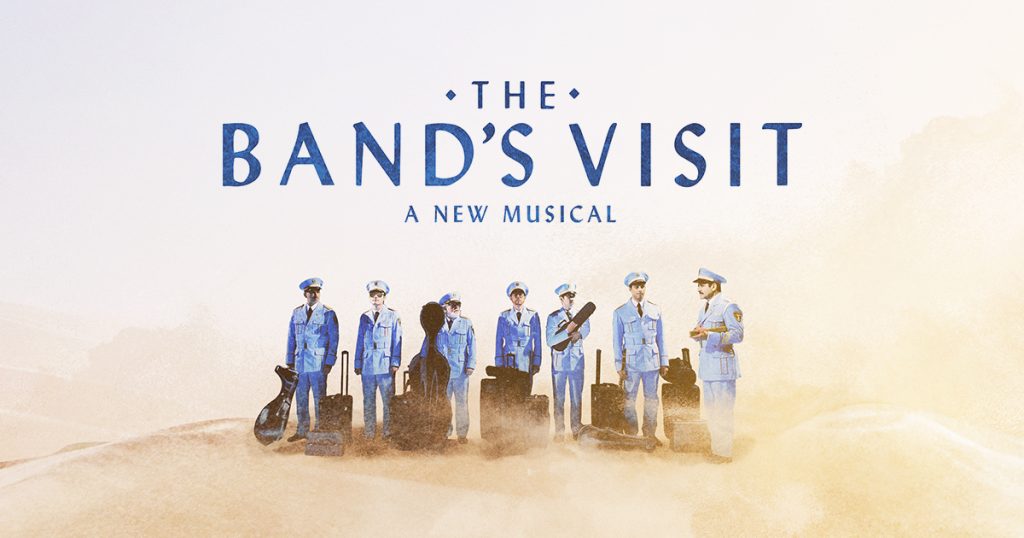 Do you approach the character development process differently when you are working in theater? With The Band's Visit, it was the same thing, the same show every day. And I grew up while on tour. I had moved to the States right before the first shows. I didn't know English very well and everything was foreign to me. By the last show, after being in the U.S. for almost a year I had a girlfriend and friends in the states. I had grown. So I was a different person doing the same exact shows, which is very unique. I was constantly watching cinema and TV and experiencing things, so I'd try new things during the show and the character grew up with me. With the screen, even though you're filming for a while—we were filming Our Boys for close to a year— you need to be loyal to what you did during the first shoot.
What was it like acting with your father? It was the best gift I could ever dream of. I have no words. I learned and am still learning a lot from him every day, as an actor, as a person, as a human being. It was interesting to juggle being colleagues, friends, father and son, and sometimes even roommates. It was a very unique time.
Only recently have subtitled shows and movies gained traction in the States. So it must have been quite exciting to see Our Boys do so well in the U.S. Exactly. Just look at Parasite. It won Best Film at the Oscars, which was a huge deal. I, as an Israeli boy, have been watching American TV and films for as long as I can remember. And not just American stuff—Italian, French, Spanish and British cinema as well. All over the world people watch content from other countries and in other languages. And then I came to the states for The Band's Visit tour, and Americans are only watching things from the U.S. that were in English and I'm like, "Oh, my god."
When Parasite won, Bong Joon Ho said something that I relate to and admire. He said, "Once you overcome the 1-inch-tall barrier of subtitles, you will be introduced to so many more amazing films." And I really believe that. 
Do you think the world's audience has opened up to more Israeli and Middle Eastern stories? There are already so many Israeli creators, actors and stories out there. Alma Har'el, an unbelievable director and super talented woman, won the Directors Guild of America Award for Honey Boy. Guy Nattiv won the Oscar for Skin, a ridiculously important short film. Lior Raz is making Fauda, which is a huge hit. My father is working on the third season of Netflix's Shtisel. And when he is in New York, people are recognizing and stopping him. And, I mean Gal Gadot, an actress from Petah Tikvah, is freaking Wonder Woman. 
And it goes beyond the screen onto the stage as well. The Band's Visit won 10 Tonys and it's an Israeli story based on an Israeli film. It's incredible and I'm really moved by it.
Top Photo Credit: Photography by Daniel Kaminsky; Design by Marissa Vonesh