If not for a flag pole waving a rarely seen banner in DC and a small plaque on the facade, there would be little to indicate that this unassuming red-brick building in upper Georgetown is a source of continuous diplomatic tension in the heart of the nation's capital.
But for Palestinians trying to get their message out to what they view as an increasingly hostile Washington establishment, the building is a source of pride as well as frustration. It houses the General Delegation of the Palestinian Liberation Organization (PLO) to the United States, which, as the title suggests, is short of a full-fledged embassy but significant enough for the Palestinians to plant a flag (only after lengthy negotiations with U.S. administrations) and to stake their claim as a legitimate voice in Washington's Middle East debate that is otherwise dominated by Israelis, Saudis and their respective supporters.
The building is now staffed by several aides and administrative workers, but the office of Ambassador Husam Zomlot (and again, he cannot technically carry the title "ambassador" due to the mission's lower diplomatic level) has been vacant for the past few weeks. The vacancy is a symbolic illustration of the Palestinian voice in the Trump-era: all but nonexistent.
Zomlot, 44, who holds a PhD in economics from the University of London and who has ascended the ranks of Palestinian bureaucracy at a pace that has left his colleagues envious, was called back to Ramallah last month, just over a year after he arrived in Washington, in protest of President Donald Trump's decision to relocate the U.S. embassy to Jerusalem. Presumably, Zomlot could return once relations between Washington and Ramallah thaw, but given the current state of affairs, that might not happen any time soon.
Zomlot's arc of experience in Washington, from hope to frustration, paralleled his relationship with the capital's Jewish advocacy elites. For many in the loosely defined pro-Israel camp, the impressive young Palestinian delegate offered a chance for a fresh dialogue following years of exasperation over the lack of progress with Palestinian officials who had been holding their positions for decades.
Zomlot was selected by the Palestinian leadership only weeks before the 2016 election to succeed Maen Areikat, who had served in the role since 2009. The first Palestinian envoy to enter the unchartered waters of a Trump administration, Zomlot cast a wide net, extending an open hand to Trump's Middle East envoys Jared Kushner and Jason Greenblatt, despite what was seen as their pro-Israel predisposition, reaching out to Jewish organizational leaders from major centrist groups, and creating a strong media presence in sharp contrast to his behind-the-scenes predecessors. "He's not only good in public diplomacy. He's also a doer and a relationship-builder," says a close observer. However, the observer adds, Zomlot, a Gaza-born diplomat who emerged as a protégé of former chief negotiator Nabil Shaath and was later embraced by Palestinian president Mahmoud Abbas, also maintained a strong reputation of being a "loyal and effective soldier" of the Fatah leadership.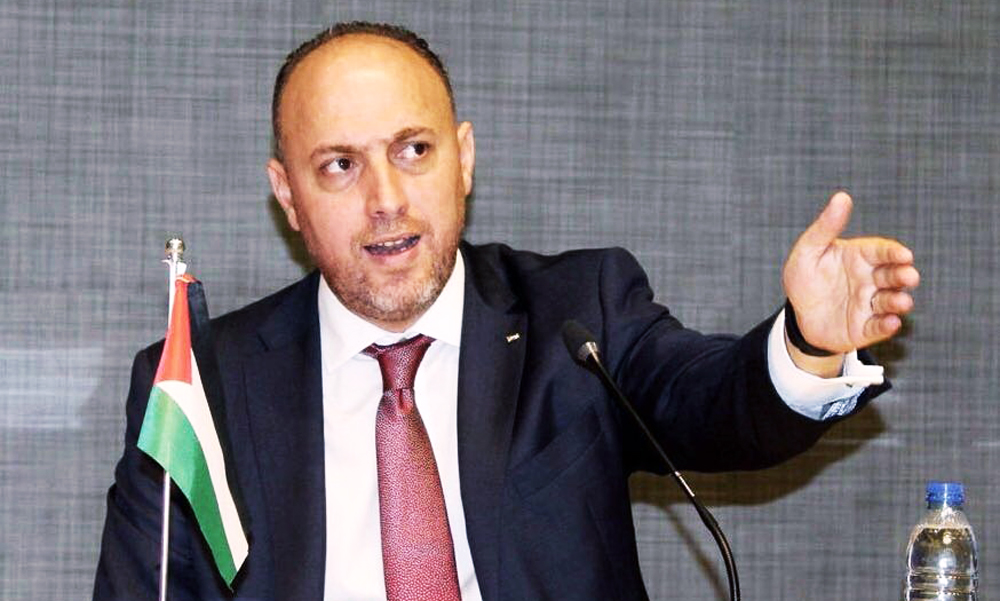 Heading the PLO mission in Washington is distinctively different than serving as the Palestinian ambassador to the United Nations. While the UN ambassador, based in New York, is surrounded by dozens of representatives largely supportive of the Palestinian cause, his counterpart in Washington faces a daily uphill battle against a massive pro-Israel lobbying machine and an administration and lawmakers who are traditionally more supportive of the Israeli side.
Established in 1978 as an information office, the Palestinian delegation in DC gained diplomatic recognition after the 1993 Oslo peace accords and officially represents the PLO, not the Palestinian Authority. It provides limited consular services (though the office cannot provide passports) and engages in diplomatic activity with the administration, Congress and civil society NGO. The delegation does not enjoy the diplomatic immunity and extraterritorial rights that embassies have.
Jewish activists found in Zomlot a partner focused on details and possibilities, rather than polemics. "He's a charmer," says one activist, noting that Zomlot was expected to use his outreach skills to win over America's Jewish community. While gravitating naturally to the liberal-leaning Jewish groups including J Street, Americans for Peace Now and the Israel Policy Forum, Zomlot also established ties with mainstream organizations, such as AIPAC, the Anti-Defamation League and the American Jewish Committee.
These efforts culminated in a visit in May 2017 of Palestinian president Mahmoud Abbas to Washington. Abbas, known as Abu Mazen, found a warm welcome at the Trump White House, dispelling initial Palestinian concerns over the new administration. After the meeting, Zomlot threw a party for his boss at the swanky Mandarin Oriental hotel in DC. The reception offered an unusual opportunity for Palestinian officials to rub elbows with centrist pro-Israel lobbyists and even with conservative think-tank figures known for their critical stance toward the Palestinian leadership.
With the visit and reception, Zomlot proved he was living up to the expectations of those who sent him to Washington. He believed, according to several people who had been in touch with him, that Trump, despite his anti-Muslim rhetoric, his lack of experience and the clear pro-Israel bend of his Middle East advisers, could offer hope for the Palestinians. "All indications are that President Trump is serious and keen regarding starting a political process, and so are we," he told Politico before starting his posting and expressed hope that Trump's pledge to seek the "ultimate deal" was not an empty promise.
This sense of optimism survived Trump's, and Zomlot's, early months in Washington. But it soon became clear that for the Palestinian, this may be, in fact, the worst of times.
First came a strong anti-Palestinian stance led by UN ambassador Nikki Haley, then a cut in American funding of UNRWA, which serves Palestinian refugees, and then a threat by the State Department to close the Palestinian mission to Washington. But it was Trump's announcement in December that he would move the U.S. embassy to Jerusalem that put an end to any illusion Zomlot may have had.
The decision by the Palestinian Authority to freeze ties with the Trump administration and the outrage in Ramallah over Trump's actions left Zomlot with very little room to maneuver in Washington. Still committed to bringing the voice of Palestinians to American policymaker circles, Zomlot kept on his media and public speaking presence, but he seemed to have lost his upbeat tone.
"Who are we? What is this office? Are we your peace partners? Your negotiating partners? Are we the secular liberal democratic movement that you want to empower as an inclusive movement? Or are we the terrorists, as designated by your own law?" Zomlot asked in a February AP interview. His point: It is now time for Palestinians to redefine their relations with Washington and demand to be treated as equally as Israel.
Jewish counterparts were among the first to notice the shift in his tone. Mainstream organizations turned their backs on him (or, according to one activist, it was Zomlot who stopped returning calls), and doors of the White House remained closed. In April, Zomlot gave a keynote speech at J Street's annual conference in Washington—a first for a Palestinian diplomat. "The two-state solution was never a Palestinian demand, but a concession. Painful, but essential for the cause of peace," he told the crowd of liberal Jewish Americans. "We have done our share. We will continue doing our share. Peace is too precious, too long-waited for. We will continue doing our dues [sic]. We have recognized the State of Israel on 78 percent of historic Palestine."
For the pro-Israel mainstream, this was just another sign that their spectrum of engagement with Zomlot has grown even more limited. They now describe contacts with him as "infrequent" and limited to times when required for specific events. The Jewish peace camp has also found that ties were dwindling, even before Zomlot got called back. "At the end of the day, he couldn't deliver much," one activist concluded.
Yet all seem to agree on one point: Zomlot's career is far from over. Whether he returns to Washington or moves on to another position in the Palestinian Authority, the young and Western-oriented diplomat is now in line for higher positions if and when Palestinians refresh their leadership. His experience in Washington, whether completed or on temporary hiatus, may have provided Zomlot with a sober look at the state of relations between Palestinians and the leading world superpower.